It is very popular to have great reunions and receptions to celebrate first communion, baptism, marriage or other family occasions in this venue. The chief will prepare a menu for you and table decorations will be waiting. If you need a moment of peace during the reception, charming palace interiors and the park will give you an opportunity to relax, while any children participating in the event will be taken care of by our professional caretaker, who will guarantee them a lot of fun, not only in the playground or in the rope park.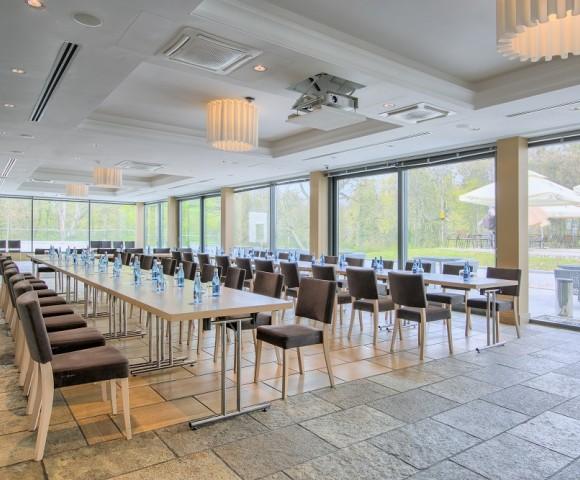 Park Room
The Park Room is situated in the modernist part of the hotel. Its design combines rawness and modernity. Thanks to huge windows reaching from the floor to the ceiling alongside the wall, a view to the park may be enjoyed in full.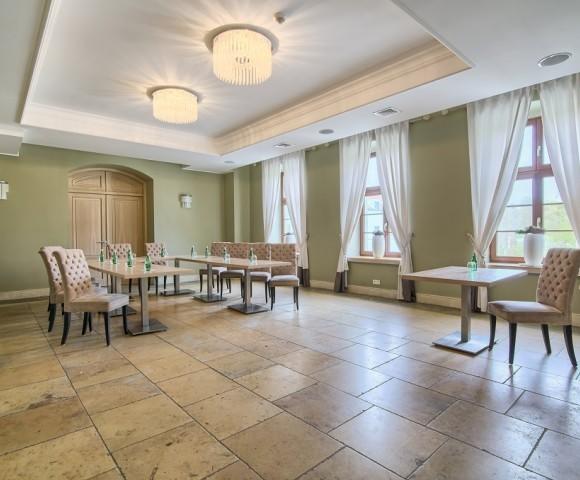 Palace Room
Nothing can rival the atmosphere of the Palace Room, which is situated in a historic part of the hotel, with a view to the 200-year old park. The room is spacious and full of daylight, but if needed, it can be also blacked out to create extraordinary mood. It is perfect for wedding dinners with up to 36 guests.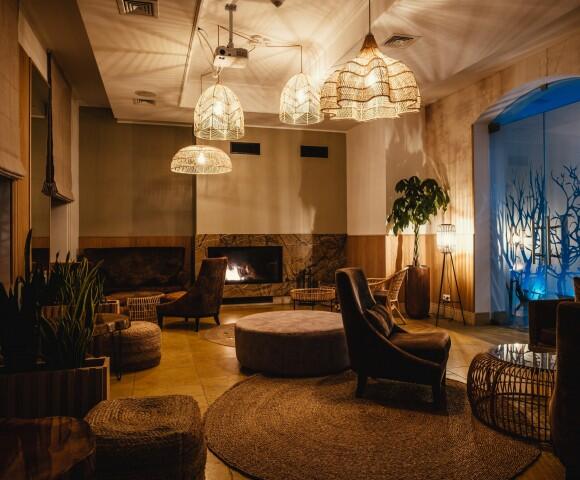 Fireplace Room
If the newlyweds appreciate privacy and they are interested in a small party for their closest relatives and friends in an astonishingly charming room, the Fireplace room will be the most suitable option. The extraordinary atmosphere of the room is shaped by a fireplace and a small library. The room accommodates up to 20 people.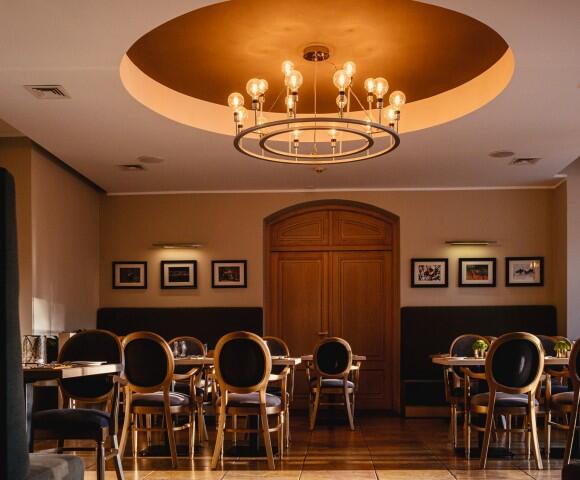 Zimowy Ogród Restaurant
Windows of the Zimowy Ogród restaurant look into the park and the surrounding richness of nature. It is a perfect place to celebrate any occasion in a larger group of relatives as it accommodates up to 50 people.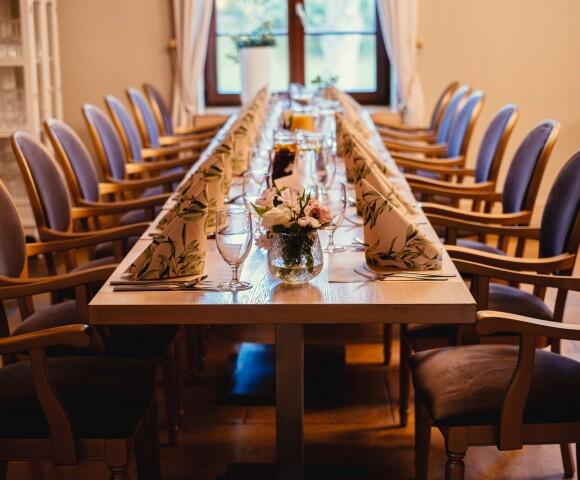 Zielony Las Restaurant
Zielony Las is an exquisite and elegant restaurant. The restaurant is ready to serve as many as 35 people.
Newsletter
Do you want to get a DISCOUNT or receive the latest information on services and promotions in our hotel? Sign up for the newsletter.
{"lng":"18.6021057","lat":"53.5516486","zoom":"13"}
Hanza Pałac Wellness & SPA ****
Rulewo 13, 86-160 Warlubie
k. miasta Grudziądz

Zjazd Warlubie, 10 min. od trasy A1
Contact Us
Hanza Pałac Wellness & SPA ****
Rulewo 13, 86-160 Warlubie
k. miasta Grudziądz

Zjazd Warlubie, 10 min. od trasy A1
Reception
+48 52 320 90 94
Check access