Hanza Rooms
The Hanza Palace Wellness & SPA****
has 50 rooms. Most of them are Classic rooms, 7 Family rooms and 2 Connected rooms, 2 type of Apartments as well as Superior on the tower that are arranged to ensure maximum comfort irrespective of the length and nature of your stay, The rooms situated in the old part of the hotel form eclectic combination of the classicist palace style with modern design, while the rooms in the new part is an essence of discrete hotel elegance.
Their common feature are solutions and equipment which guarantee that both the guests looking for relax and fun, as well as those who need to add some work to the relax in our hotel will have great memories.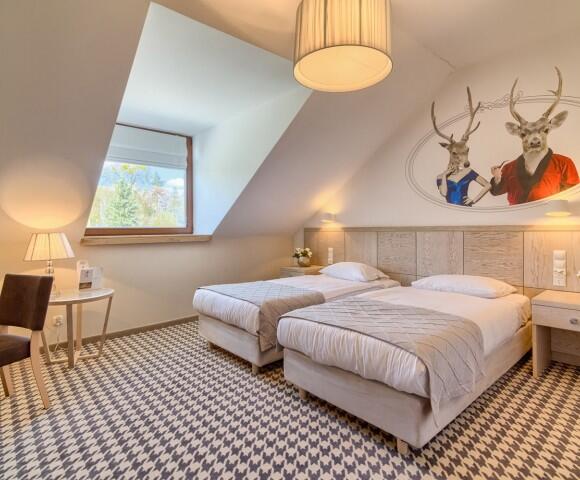 Classic Rooms
Classic Rooms, four of which are linked by direct passages into rooms, have been designed to ensure perfect conditions for working and resting in classically arranged and air-conditions interiors.
More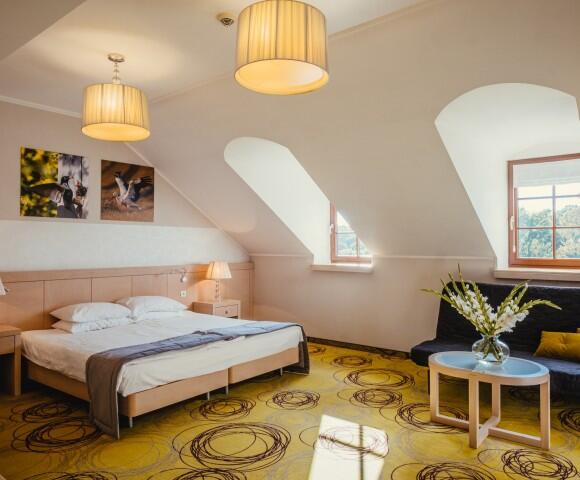 Family rooms
Family rooms, with the area of approx. 30 square meters, are spacious and spending time there is a pure pleasure, no matter whether your stay in the hotel is for business or relax. Some rooms of this class are situated in the upper level of the palace, enriched with beautiful sloped ceilings and bays that add a comfy and home-like character.
More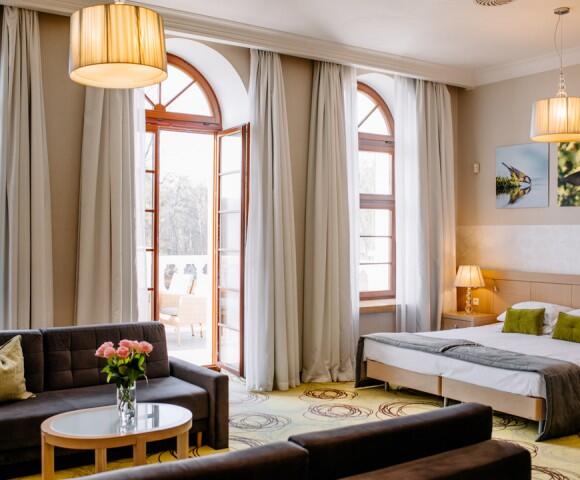 Type of Apartment
Two huge apartments of the Hanza Palace Wellness & Spa have been created in the most beautiful palace rooms. In their spacious interiors, the atmosphere of the old mansion may be felt immediately, and the relaxing power of surrounding nature may be experienced instantly after going out to the terrace.
More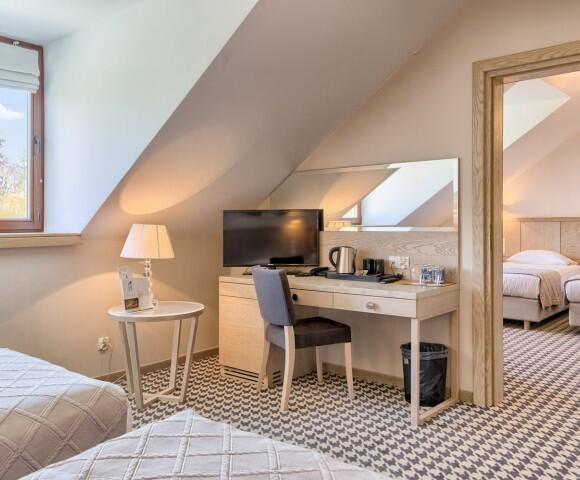 Connected Rooms
STUDIO rooms are two mirror-image rooms linked together by internal doors. They provide an outstanding comfort for families with children whose members want to stay close to each other, but at the same time they want to enjoy some privacy and quietude.
More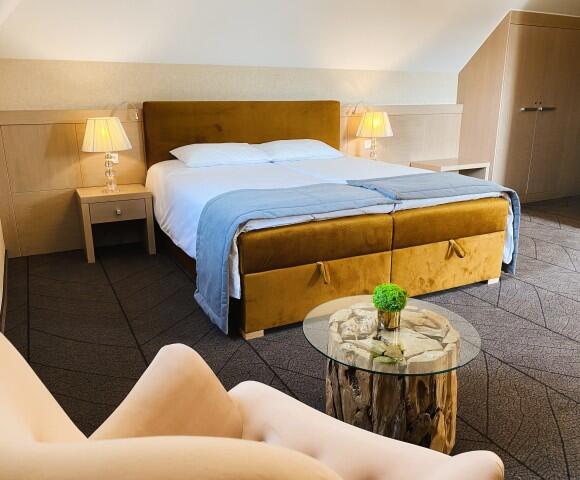 Superior in the tower
Superior room in the tower is an ideal place for couples to relax. Its location in the palace part, far from other rooms, allows you to experience the atmosphere of peace and intimacy. The room has beautiful slants and one of its windows overlooks the surrounding park. Apart from standard equipment such as a desk, a phone, a safe and a set to make coffee and tea, the room has a double bed, comfortable armchair and a coffee table. Complementing the comfort of this room is the, which is equipped with a bathtub.
More
Newsletter
Do you want to get a DISCOUNT or receive the latest information on services and promotions in our hotel? Sign up for the newsletter.
{"lng":"18.6021057","lat":"53.5516486","zoom":"13"}
Hanza Pałac Wellness & SPA ****
Rulewo 13, 86-160 Warlubie
k. miasta Grudziądz

Zjazd Warlubie, 10 min. od trasy A1
Contact Us
Hanza Pałac Wellness & SPA ****
Rulewo 13, 86-160 Warlubie
k. miasta Grudziądz

Zjazd Warlubie, 10 min. od trasy A1
Reception
+48 52 320 90 94
Check access