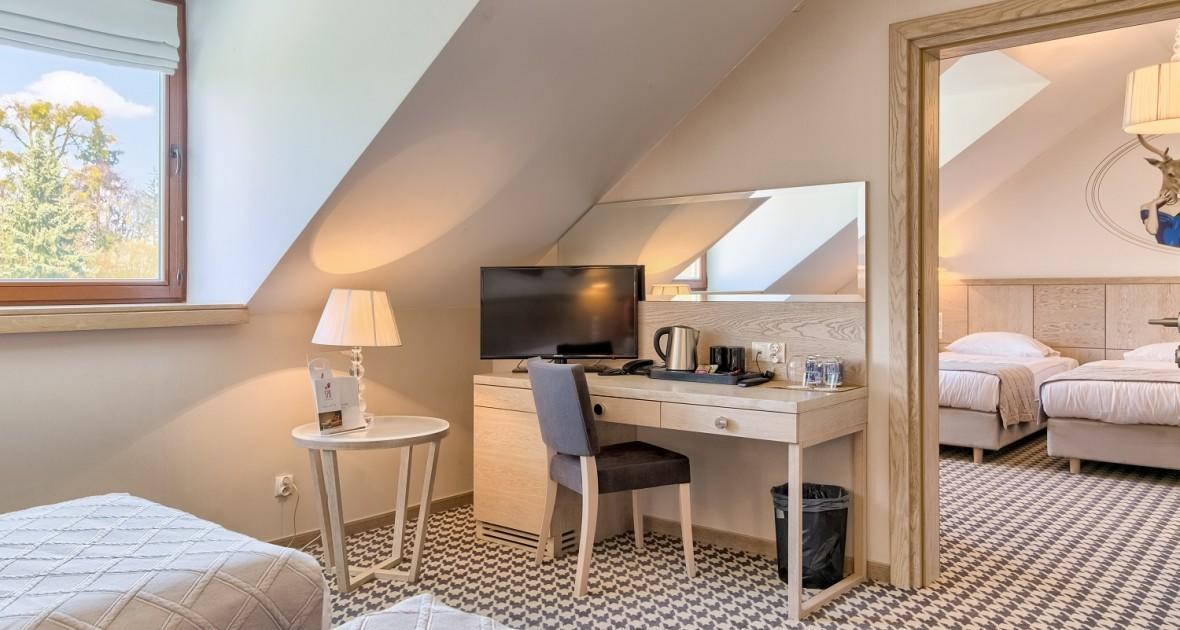 Connected rooms are two mirror-image rooms linked together by internal doors. They provide an outstanding comfort for families with children whose members want to stay close to each other, but at the same time they want to enjoy some privacy and quietude.
Each room is equipped not only with large beds with top quality mattresses and fresh bed linen, but also a modern bathroom with a shower, comfortable working desk, LCD TV set with terrestrial TV channels, Internet fixed connection, safe box, mini-bar, and a fixed-line phone.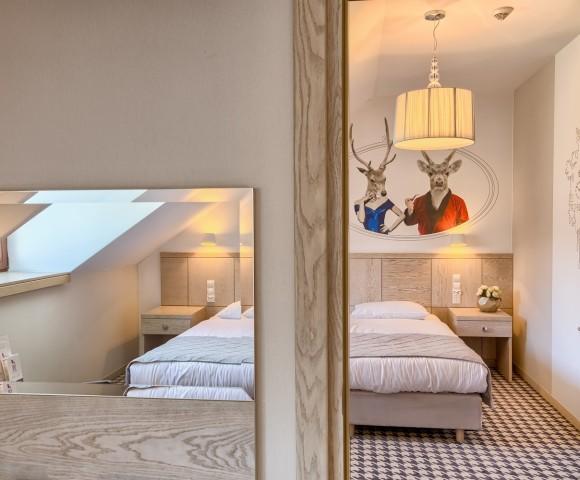 In Connected Room
- desk
- bathroom with a shower
- LCD TV set with terrestrial digital channels
- telephone
- hair dryer and cosmetics
- bathrobes and slippers
- towels
- mini-bar
- air-conditioning
- welcoming tea/coffee set
After a well-slept night, we invite our guests to the Water Room for an open-buffet breakfast whose richness and diversity will allow you to create meal tailored for your taste. Crispy bread we bake ourselves using traditional recipes, wide selection of organic products from local suppliers and from our own palace garden, wide offer of hot plates, hams and cheeses, fresh fruit and juices, fitness products, delicious coffee and tea – all of these make your breakfast a real morning feast that wakes you up and gives you energy for all day long.
At the request of our guests we serve breakfasts made of regional products, such as home-made white curd cheeses, seasonal forest fruit, jams, and honey from our local apiary. Unique taste of meals will give you the idea of court breakfasts that used to be eaten in these interiors and the smell of freshly brewed coffee will inspire you for action.
Newsletter
Do you want to get a DISCOUNT or receive the latest information on services and promotions in our hotel? Sign up for the newsletter.
{"lng":"18.6021057","lat":"53.5516486","zoom":"13"}
Hanza Pałac Wellness & SPA ****
Rulewo 13, 86-160 Warlubie
k. miasta Grudziądz

Zjazd Warlubie, 10 min. od trasy A1
Contact Us
Hanza Pałac Wellness & SPA ****
Rulewo 13, 86-160 Warlubie
k. miasta Grudziądz

Zjazd Warlubie, 10 min. od trasy A1
Reception
+48 885 211 311
Check access