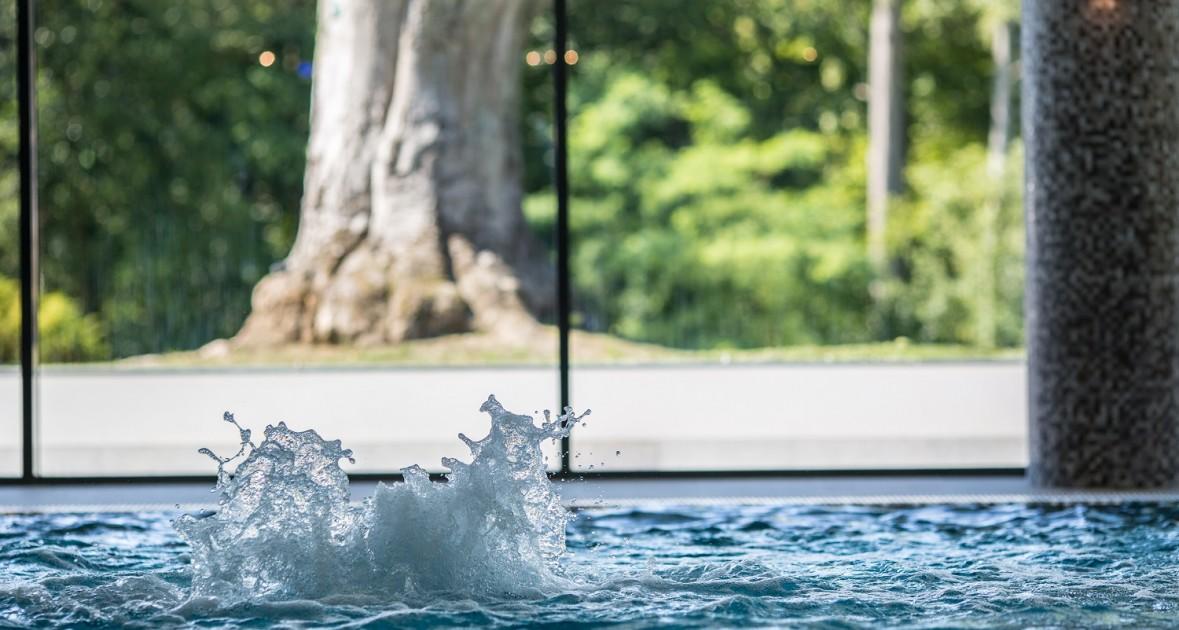 The newly created SPA complex at the Hanza Palace Hotel in the vicinity of Toruń and Bydgoszcz has a unique character. In the beautifully decorated interiors, we can enjoy the charms of the pool area and jacuzzi, enjoying the view of the park.
For lovers of hardening and body cleansing, we offer a sauna zone, consisting of a dry sauna with a high heating temperature, an aromatized dry sauna with adjustable humidity and a steam bath, after which an experience shower and cold water will be an additional attraction. Both zones together with six SPA treatment rooms and a relaxation room as well as a specially composed range of treatments create an amazing place to relax for all who value peace. The SPA Salon Toruń Bydgoszcz at the Hanza Pałac hotel is an alternative for clients who want to rest in peace and quiet.
The pace of life and the multiplicity of tasks in everyday life often set aside rest, so necessary for everyone. After a period of prolonged stress related to work and household responsibilities, everyone will need comprehensive regeneration, and this will certainly ensure a comprehensive SPA offer at the Hanza Palace Hotel in Rulewo near Bydgoszcz.
The possibilities offered by the SPA complex are wide. The proposals are so diverse that everyone can easily find something for themselves. Both those who would like to stay in the Hotel for longer, and those interested in Day SPA, to balance not only their body but also their spirit during the day spent here. You can't forget that '' in a healthy body, healthy mind. '' The massage offer is very diverse (including the original Hanza Palace, classic, hot stones, aromatherapy and healing), facial treatments are adapted to the type of skin and its needs, based on ecological and vegan cosmetics from FEMI. Body rituals - Rose relaxation or Deep relaxation in Bory Tucholskie are very popular among guests. There are also proposals for pregnant women - safe for both the future mother and the child. Gentlemen, in turn, can choose specially composed for them Lumberjack massage using wooden balls and birch essential oil. While creating the offer of treatments, children were not forgotten - after all, everyone should relax, and a gentle massage will certainly improve their well-being.
Regain balance in 24h - Relax in SPA is an offer for people who cannot spend too much time on rest, but would like to make good use of the one they have. This option includes one bed and breakfast and the implementation of treatments included in the previously selected package. Package No. 1 contains a relaxing back massage based on natural sweet almond oil and ecological iodine-bromine peeling of the feet, and Package No. 2 a relaxing full body massage with a scalp massage. Of course, other sets available in the SPA offer at the Hanza Palace Hotel can be selected for such sets. The package price also includes a delicious regional breakfast and unlimited access to the Wellness & Spa zone with a swimming pool.
For those who have a little more time to relax, we recommend the Spring detox package in SPA. During the three-day stay you can take advantage of all the benefits of the SPA complex in the vicinity of Bydgoszcz. In addition to two nights in a comfortable room, a tasty breakfast and dinner, and a rich tea menu, the package also includes unlimited access to the Wellness area with a swimming pool, jacuzzi and sauna. The package also includes SPA treatments. Ecological and aromatic whole body scrub based on Dead Sea salt with ground coffee and orange essential oil. The peeling exfoliates dead skin cells, stimulates circulation and detoxifies. Its composition includes firming green coffee oil and vitamin E with antioxidant effect, ideal in the fight against cellulite. Back massage adapted to the individual needs of the body based on natural oils and a nourishing and regenerating massage of the hand or scalp.
All services provided in the SPA Hanza Palace are intended for deep relaxation and promote harmony of the entire body.
Newsletter
Do you want to get a DISCOUNT or receive the latest information on services and promotions in our hotel? Sign up for the newsletter.
{"lng":"18.6021057","lat":"53.5516486","zoom":"13"}
Hanza Pałac Wellness & SPA ****
Rulewo 13, 86-160 Warlubie
k. miasta Grudziądz

Zjazd Warlubie, 10 min. od trasy A1
Contact Us
Hanza Pałac Wellness & SPA ****
Rulewo 13, 86-160 Warlubie
k. miasta Grudziądz

Zjazd Warlubie, 10 min. od trasy A1
Reception
+48 52 320 90 94
Check access