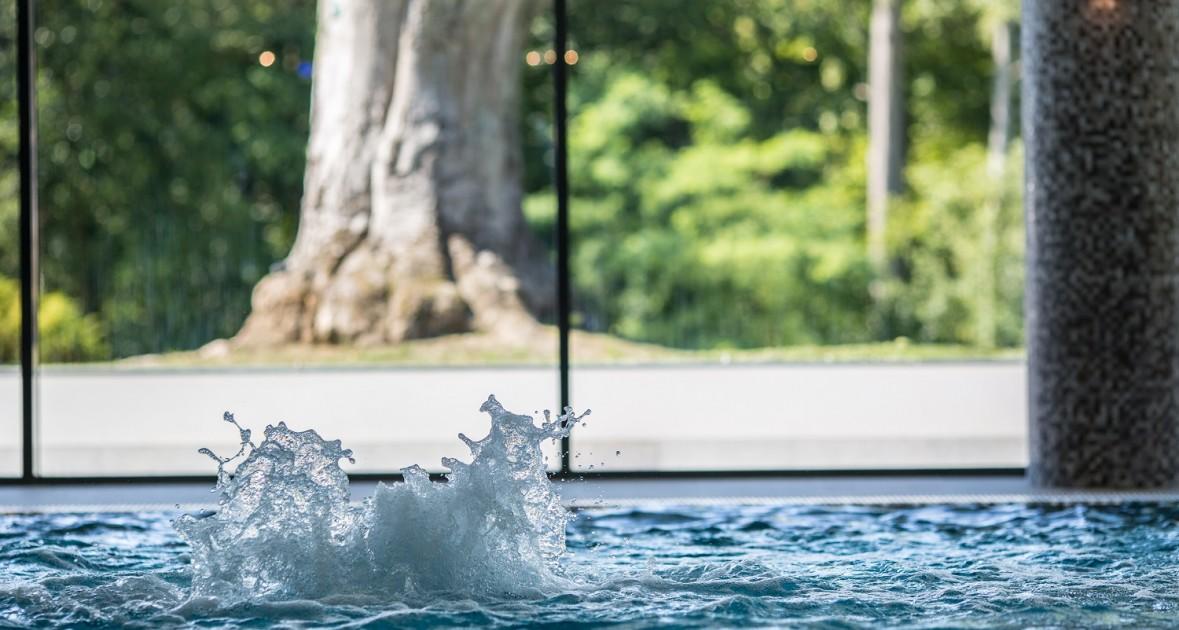 The newly created SPA complex at the Hanza Palace Hotel in the vicinity of Toruń and Bydgoszcz has a unique character. In the beautifully decorated interiors, we can enjoy the charms of the pool area and jacuzzi, enjoying the view of the park.
For lovers of hardening and body cleansing, we offer a sauna zone, consisting of a dry sauna with a high heating temperature, an aromatized dry sauna with adjustable humidity and a steam bath, after which an experience shower and cold water will be an additional attraction. Both zones together with six SPA treatment rooms and a relaxation room as well as a specially composed range of treatments create an amazing place to relax for all who value peace. The SPA Salon Toruń Bydgoszcz at the Hanza Pałac hotel is an alternative for clients who want to rest in peace and quiet.
The pace of life and the multiplicity of tasks in everyday life often set aside rest, so necessary for everyone. After a period of prolonged stress related to work and household responsibilities, everyone will need comprehensive regeneration, and this will certainly ensure a comprehensive SPA offer at the Hanza Palace Hotel in Rulewo near Bydgoszcz.
The possibilities offered by the SPA complex are wide. The proposals are so diverse that everyone will easily find something for themselves. Both those who would like to stay at the hotel for a longer period of time, and those interested in the Day SPA offer, to balance not only their body, but also their spirit during the time spent there. After all, we must not forget that ''in a healthy body, a healthy spirit. The offer of massages is very varied. Apart from the traditional classic massage, hot stone massage, relaxing massage or therapeutic massage, there are original body treatments such as the Hanseatic Palace Author's Massage or the Champagne Ritual in Bory Tucholskie, as well as the much sought-after Kobido lifting face massage. Facial treatments are tailored to the skin type and its needs, based on ecological and vegan cosmetics from FEMI, CLOCHEE and PHYTOMER. The Women's Sensuality and Men's Strength rituals, as well as body shaping and slimming treatments, are very popular among guests. There is also no shortage of proposals for pregnant women - safe for both the future mother and child. Men, in turn, can choose a specially composed Lumberjack Massage with the use of wooden balls and birch essential oil. Children have not been forgotten while creating the offer of procedures - after all, everyone deserves relaxation, and a gentle chocolate massage will certainly improve your mood.

Accommodation with breakfast and dinner and a Spa treatment - this is a proposal for those who cannot spend too much time on relaxation, but would like to make good use of the time they do have. This option includes 1 night with breakfast and dinner and a back massage based on natural oils. Of course, you can also choose other treatments from the offer of SPA in Hanza Palace Hotel. The package price also includes a delicious regional breakfast and unlimited access to the Wellness & Spa area with swimming pool.

For those who have a little more time to relax, we recommend the Regeneracja w SPA package. During a three-day stay you can take advantage of all the benefits on offer in the SPA complex near Bydgoszcz. Apart from two nights' accommodation in a comfortable room, tasty breakfast and dinner and a rich tea menu, the package also includes unlimited access to the Wellness zone with a swimming pool, jacuzzi and sauna. Guests are also entitled to spa treatments as part of the package. Organic and aromatic body peeling, which exfoliates dead skin cells, stimulates blood circulation and has a detoxifying effect. A back massage adapted to individual needs of the body on the basis of natural oils and a nourishing and regenerating hand or scalp massage.
All services provided in the SPA Hanza Palace are intended for deep relaxation and promote harmony of the entire body.
Newsletter
Do you want to get a DISCOUNT or receive the latest information on services and promotions in our hotel? Sign up for the newsletter.
{"lng":"18.6021057","lat":"53.5516486","zoom":"13"}
Hanza Pałac Wellness & SPA ****
Rulewo 13, 86-160 Warlubie
k. miasta Grudziądz

Zjazd Warlubie, 10 min. od trasy A1
Contact Us
Hanza Pałac Wellness & SPA ****
Rulewo 13, 86-160 Warlubie
k. miasta Grudziądz

Zjazd Warlubie, 10 min. od trasy A1
Reception
+48 885 211 311
Check access